Not long ago, I received an email from a client who was concerned about Flash. Facebook recently urged Adobe to kill off Flash — their nearly 20-year-old platform —citing security vulnerabilities among other reasons.
Google and Mozilla, developers of the popular web browsers Chrome and Firefox, also made announcements that they would be dropping default support for Flash.
While each of these announcements has its own merit, any piece of software is, has been or will be exploited. From a technical standpoint, that's a concern — but it's not the real risk of running Adobe Flash. The real risk lies in losing website visitors who might otherwise convert into potential customers.
To explain why using Flash on your website could hurt your business, we have to examine the history of web technologies. Originally developed by Macromedia, Flash was created as a way to allow web developers to deliver rich content such as animation and video. Between 2000 and 2010, many notable businesses, such as Nike, Disney, HBO, Hewlett-Packard and General Electric, relied on Flash-based websites.
Then the game changed in 2007, when Apple introduced the first iPhone. The worldwide web had been accessible to mobile phones for years prior, but never in a way that allowed websites to be viewable on a portable device in the same way they could be seen on a desktop or laptop computer. Following controversy between Adobe and Apple, Steve Jobs decided the iPhone would not support Flash.
While the inception of the iPhone and its many imitators, a shift began in the way web developers created websites. It was Apple's 2010 launch of the iPad that created an even larger rift in the way users access web-based content.
Sparking the fledgling tablet computer industry, the iPad — like its sibling the iPhone — did not support Flash. And thus, changes in how web content is created and delivered began. With advances in technologies such as HTML5, it's no longer necessary for websites to rely on Flash as a delivery mechanism for media for which it was once the default option.
That's where Flash may pose its largest risk to your business. Presently, as many as 65% of potential customers may view your website for the first time with a smartphone or tablet. If your website is several years old and still relies on Flash-related content (with no fallback in place), your site may look like this: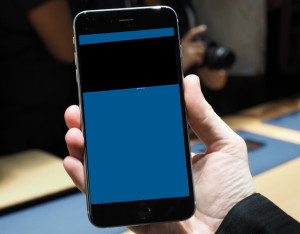 When your website does not render properly to your users, you could be losing business. But when your website is mobile-optimized for smartphones and tablets, you increase the chance of new conversions — by not only fixing technical glitches which render part (or all) of your website useless, but also by providing a great experience for the end user.